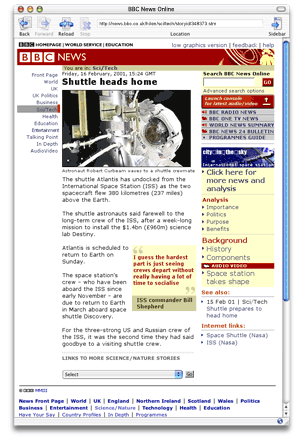 Screenshot
Portfolio: February 1998 - October 1999
Designer/Developer, BBC News Online
I joined the team at BBC News Online shortly after it was set up and, as well as producing news graphics and page templates for special dynamic content, I was closely involved in the first two major redesigns of the website.
These redesigns involved research, design, user testing and prototype iteration. We also needed to upgrade our custom built Content Production System and it's user interface to allow and take advantage of the enhanced capabilities of the new designs.
For the second redesign in late '99 I rewrote the WebObjects templates, using WebScript and Objective C, that were used by the CPS to generate the static pages for the News Online website.